Categories
Statistics
Number of ads: 600
Registered users: 191


Partners
Show all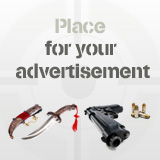 Deactivated guns
(75 ads)
Ad title
Price
Date added
Locality

Replica Sten MK 5 with real spike bayonet,front grip and sling for sale. Excelle...
26500 £
26.05.2016
23:08
North West England

This is a russian PPSH41 sub machine gun, WW2 issue dated 1945, an item becoming ...
875 £
28.02.2015
13:52
South East England

For sale is a M1917 bolt action rifle made by Eddystone US. The M1917 was used by...
595 £
30.11.2014
17:54
Yorkshire and the Humber

For sale is an T56 assault rifle, the iconic weapon used by the Viet Cong in the ...
325 £
30.11.2014
17:49
Yorkshire and the Humber

This is a full 1:1 scale replica of the famous Colt M16A1, used extensively by th...
325 £
30.11.2014
17:41
Yorkshire and the Humber